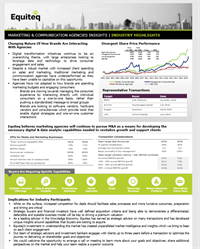 Equiteq is pleased to publish the results of our review of M&A and equity market trends across the growing marketing & communication agencies industry. We believe marketing agencies will continue to pursue M&A as a means for developing the necessary digital and data analytic capabilities to revitalize growth and support their client needs. While on the face of it, increased competition for deals should facilitate sales processes and more lucrative outcomes, preparation and timing are critical.
Click here to download the report.
To read more about the Marketing & Communication Agencies Industry, please check out our blog here, or contact us for more details.