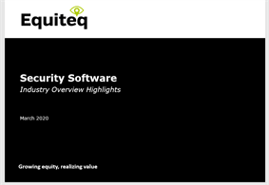 Global IT Security and Risk Management spending Is expected to grow at a 13.4% CAGR with developed markets representing the dominant global region. Changing industry dynamics have opened new vulnerabilities as businesses focus on cloud, mobile, social and information/big data.
Download the summary of key findings here.
Inquire at info@equiteq.com if you would like to receive a full copy of our Security Software Industry Bulletin.