The 8 Levers of Equity Value
The 8 levers of growing equity value describe the key levers of our equity growth programme using the metaphor of a wheel: the Equity Growth Wheel.
The purpose of this article is to introduce you to the eight levers of equity value. We call them levers because we describe our equity growth programme using the metaphor of a wheel: the Equity Growth Wheel. By pulling these eight levers you can increase the speed of the wheel and the equity growth of your firm. We will give you an understanding of how, used as a benchmark as well as a strategic planning tool, the Equity Growth Wheel can help you ratchet up the value of the firm.
There are two uses for the Equity Growth Wheel; we use it as part of our Strategic Review process to calculate the valuation of a firm, but it should also be used as a strategic planning tool for equity growth at any stage leading up to sale. If you understand how the model works in a valuation assessment it can be used to build a plan to increase value over time. In other words, set your exit goals now and use the Equity Growth Wheel to achieve them.
The eight levers contain 80 of the most important measures that a sophisticated buyer would look at to evaluate the risk in your business. Knowing where you are from poor to best in each lever at the strategic level, and each of the 80 measures at the tactical level, you can prioritize performance improvement and drive equity value up.
How the 8 Levers are used to assess equity value
Your firm is worth a multiple of the last 12 months profit and when someone invests in your firm they're gambling that profits will continue, or indeed grow over time. Therefore, if the market risk assessment is high, then the profit multiple will go down, if it's low it will go up. The eight levers in the Equity Growth Wheel are used to assess the risk, so if you get them right you'll drive up your multiple, get them wrong and it will go down.
Each lever is an area of opportunity to either increase or decrease the probability of your firm delivering predictable and robust profit growth. By assessing your performance in each lever and giving it a weighted score (some levers are more important to buyers than others), an overall risk factor can be developed.
So what would a buyer be looking for in a quality firm and what should you be striving for in each lever to grow your equity value?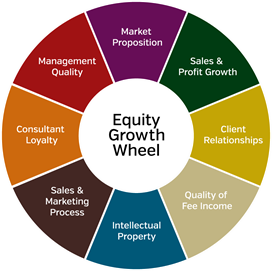 1. Sales and profit growth
Can you show a consistent growth in revenue and profits?
This is the primary driver of equity value and a firm with a track record of erratic revenues and profits sends a concerning message to buyers and investors. So if you can show sustained revenue and profit growth and high margins, you have an attractive proposition. Before you take your firm to market, you want to be able to demonstrate consistent growth over the last three years. Sales and profit growth is a reflection, or an output of your performance in the other 7 levers and the most important factor by far is your Sales and Marketing Process.
Actions: aim for strong sustained rates of organic growth year on year; manage cash so growth isn't constrained; achieve predictability, which is so crucial to investors.
2. Sales and marketing process
Can you predict top-line sales revenue with accuracy?
If you can then there's a high probability that you can forecast profits, which is why a quality sales and marketing machine is vital in the valuation equation, because it delivers a healthy business pipeline and de-risks the traditional cyclicality issues often found in knowledge economy firms. If you leave all your sales and marketing activity to a small number of rainmakers, or serendipitous sales opportunities, then you're hostage to a group of very mobile assets and your sales pipeline will be vulnerable and unpredictable.
Investors want lead generation to be independent of any individual, with automation embedded into the sales and marketing process. A marketing-led firm, where prospects are attracted through a balance of 'pull marketing' and 'push sales' is more likely to deliver a robust sales pipeline. Overall, they want a culture where sales and marketing is seen as an investment and not a cost, and by 'cranking the marketing handle faster' you can drive more sales and cash into the business.
Actions: make prospects aware of your value; invest in your brand – strong brands take market share in difficult times; focus your services where you have the 'right to win'; proactively drive, measure and manage sales performance.
3. Market proposition
Does your value proposition provoke a 'wow' or a 'so what'?
The more unique, compelling and targeted your value proposition, the better you can demonstrate that your firm can command market attention with greater ease than its competitors and the higher you can push up your fees. If you're in a more homogenous zone, then the risk of future profits is higher because competition risks are higher and you have to fight harder for business. Quality firms with a strong 'unique value proposition' tend to have robust processes around such things as market research, competitor analysis and win/loss reviews. Notwithstanding your magnetism to the market, a clear value proposition helps you stand out in the crowd when a buyer is hunting for a firm like yours.
Actions: focus your offer on financial benefits; ensure you are part of the client business plan rather than just a cost line in their P&L; make your offer includes an ROI and, if practical, share results; promote your expertise.
4. Management quality
Does your leadership team work 'on' or 'in' the business?
Financial investors say they invest in management teams first, firms second. An investor wants to see a balanced, experienced leadership team with a track record of delivering results, working in an environment where they spend more time working 'on the business' rather than in it. If this is happening then the firm is likely to be innovative, focused, and tightly managed with good KPI measurement and financial control. If the management style in the firm is right then not only will your buyer see effective processes, but they will also see people willing to go the extra mile when they interview key personnel in the delivery team.
Actions: be crystal clear on your vision and strategy; delegate profit targets and manage performance; communicate results and empower all to improve; balance working 'on' and 'in' the business.
5. Client relationships
Do you have a well-managed contact base and low client attrition?
The quality of client relationship management extends from your account planning methods to the way you nurture influencers, decision makers, dormant clients and old contacts. Good firms employ methodologies like Miller Heiman's Large Account Management Process (LAMP) to protect and grow strategic accounts; they use a CRM or contact management system to assist in relationship development with individual contacts. Quality processes such as these enhance your ability to acquire, retain and build your client base, increase your revenue per client and improve the quality of your fee income.
Actions: form long-term client relationships to build equity and sales value; make sure you maintain relationships even in difficult times; invest in CRM and account management; aim to grow clients year on year.
6. Quality of fee income
Do you have long term contracts and no bad debt?
If a good percentage of your future fee income is locked in through long term contracts (12 months or more) with a number of clients, then you're in the right place. Investors like to see a diverse client portfolio with fee income growth balanced across existing clients and new business. Add to that a quality approach to billing and debt collection, resulting in zero bad debt and low to zero working capital requirement, then you have a very strong card to play with investors.
Actions: create ways to increase the predictability of leads, sales, profits and cash generation; invest in strategic clients and link your fees to client results; minimize dependency on any client; manage cash collection.
7. Intellectual property
How much IP is in your very mobile people and laptops?
A systematic approach to innovation, knowledge management and IP building will make your firm more valuable because it de-risks the acquisition from the buyer's perspective. Their vulnerability to losing people post-acquisition is less a threat and it makes the firm more scaleable if IP can be ported to other resources. Also, effective IP development and management improves your market position by raising the height of the bar for competitors.
Actions: develop IP that drives leverage and annuity relationships; make sure your IP is secure in uncertain times; create two types of IP – business related (internal) and client related (external).
8. Consultant loyalty
Can you stop your equity from walking out the door?
There's no point in winning all those new deals if you can't provide the skills and manpower to deliver, so you need an environment people want to work in, where they get recognition, reward, personal development and have fun. If you create this environment, then you'll be more likely to hire the best people to keep your business growing and reduce their desire to take the next head-hunter call. Also, if you've locked your key staff into the future of your firm through profit-sharing and share options, then you'll have a team where all are focused on the equity growth of your firm and its future acquisition. This is probably one of the harder issues for an owner to grapple with…the thought of giving up equity in return for a bigger pie at the end of the line.
Actions: make sure you attract, develop and motivate the best quality staff; link all compensation to profit growth; reduce risk through use of contract professionals.
Key takeaway points
Wherever you are on the growth journey, use The Equity Growth Wheel to increase value over time. If you have a firm with a solid track record of profit growth over the last three years; that has a lead generating 'machine' independent of any individual; has a proposition that wows your market; has a management structure with breadth and depth, has effective client relationship management; can demonstrate long term relationships with blue-chip clients, that has mined and built its IP; and has its staff locked-in to the future of the firm; then you've probably used the Equity Growth Wheel without realizing it.
This is a quick and simple tool to get a gut feel for how you think you're performing against the eight levers of equity value - the output is a radar chart like this below.