When selling your consultancy or technology firm you will be describing a future in which the business delivers increasing revenue and EBITDA. Your buyer (or investor) will base their valuation on the scale and upward gradient of that future EBITDA growth. They are, after all, investing in the future, not the past.
One of the key tasks the buyer undertakes in the transaction process is to determine whether or not your operations platform is capable of delivering that smooth upward gradient. If they think there is a risk that your growth will be flatter they will adjust their valuation downwards, and if they think there is too much risk in the operations platform, they may walk away from the deal altogether.
That's not what you want!
In order to be confident that your transaction will be successfully completed at the maximum valuation, and that value won't get diluted as you go through the process, you need to look at your operations the way a buyer would. That's not your day job, so it won't be easy. Fortunately, though, at Equiteq we know exactly how buyers and investors look at their acquisition targets in the knowledge economy because that is our day job! We have sold hundreds of companies in the sector and spoken with thousands of buyers, and we've been doing this since the early 2000's.
We have distilled all those potential buyer concerns into a benchmark of 52 questions that fit into a structured framework that we call the Equity Growth Wheel.
Let's have a quick look at each of the eight levers.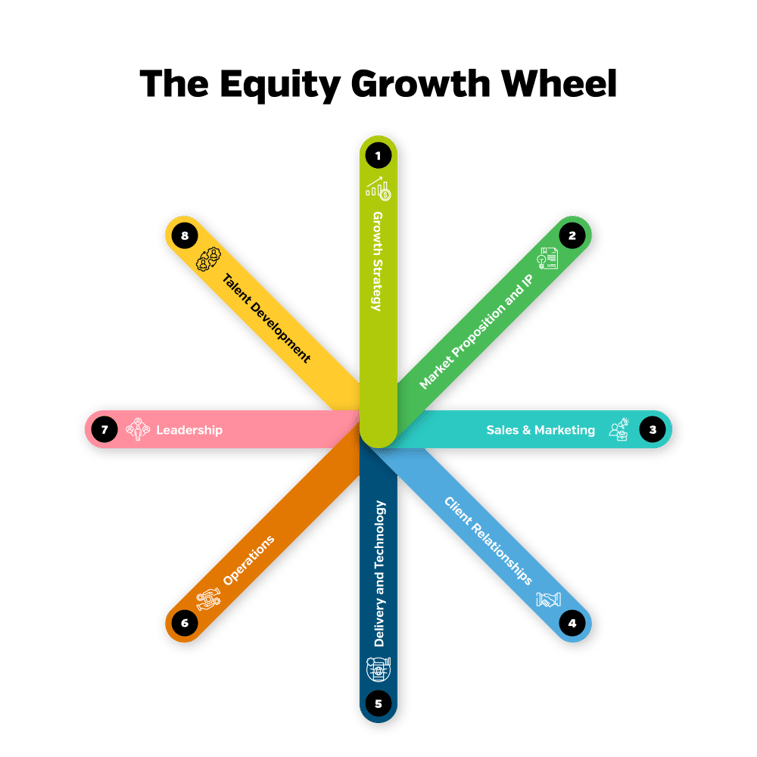 Lever 1. Growth Strategy
A buyer will want to see your business strategy and supporting business plan as these are what drive future performance and should inspire confidence in their investment case. They'll want to know that equity participation will support the transaction and ties in key people to the future.
Lever 2. Market Proposition & IP
Buyers will be keenly interested in your market proposition, especially its value to clients and how differentiated it is. They will want it supported by strong IP which can be leveraged to drive up margins, and to provide the basis for scaling the business effectively and for continuing to deliver high-quality services.
Lever 3. Sales & Marketing
If you have a strong, valuable proposition, operating in a growing market, then effective sales and marketing processes will drive growth. Demonstrating this will be important to buyers and will underpin their confidence in your upward growth trajectory.
Lever 4. Client Relationships
Buyers love blue chip clients where you have senior-level relationships and with whom you work for a long time, ideally with recurring revenue. This represents stability and de-risks the future, especially if revenue is well spread across many clients with no high concentration in a single customer.
Lever 5. Delivery & Technology
The better that service delivery is managed, with effective quality assurance, leveraging internal knowledge, appropriately supported by technology, the more confidence buyers will have in the platform.
Lever 6. Operations
Buyers will pay a lot of attention to project profitability and the reliability of your forecast (that's what they are buying!) so you need to make sure you have a really firm hold on the numbers, with clear management reporting and corrective actions where necessary. Demonstrating you are in control of the business will maintain confidence throughout the transaction process.
Lever 7. Leadership
The quality, capability, depth and breadth of the management team are fundamental to building confidence to invest. There is no area more critical to buyer confidence than leadership.
Lever 8. Talent Development
You're a business where the critical assets are people, so you need to demonstrate to your buyer that your people processes are effective and that you are able to recruit, retain and develop the talent needed to deliver future growth.
Apply the Levers to your Business
To quantify your performance in each lever, and to help identify the priorities for improvement, the 52 questions that sit within the Equity Growth Wheel framework have responses that describe best practice down to least desirable, and every step in between.
Equiteq runs a highly interactive Strategic Review Workshop that allows us, together with our clients, to develop a roadmap that will get them to a high-value transaction with maximum confidence of a deal with the best buyer or investor. The diagnostic based on the Growth Wheel forms a major part of the Review, along with an analysis of performance metrics that are critical to buyers, a critique of likely buyers and investors, and a valuation of the business now, and in the future.
We have conducted over 700 Strategic Reviews and we'd be delighted to discuss in more detail with you how they work and how one would deliver value to you and your business.
Contact a Helpful Expert Today to discover your business potential.
You can also download the 50 Tips For Owners of Consulting and Technology Services Firms to Maximize Value >>