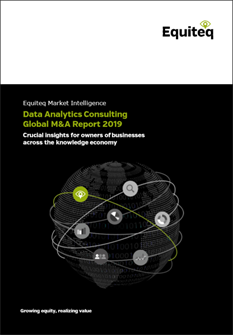 At the core of the Fourth Industrial Revolution is the fusion of big data, advanced analytics and new physical technologies. The key to business success in the new digital age is no longer being able to simply use data to measure current and past performance. It is being able to make predictions about the future and quickly prescribe recommended strategies that can enrich decision making. For this reason we are seeing strong demand from buyers looking to acquire companies in this space.
Download our full report to learn:
M&A at a glance - what was the median deal size and revenue valuation multiple?
The Equiteq Data Analytics Share Price Index
Recent deals
Click here to download the full report.